What is Cfast?
C-fast is a gentle, safe and minimally invasive treatment we offer for adults that uses sound orthodontic principals to straighten the upper and lower front six teeth that make up your visible smile.
Using a tooth coloured wire and clear brackets, it gently straightens your teeth in 4-6 months to give you that healthy, beautiful smile you've always wanted!
Click the link below to find out more-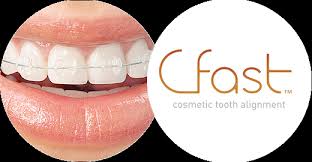 Smile-Tru
Smile-Tru, like Invisalign is a series of clear aligners that are removable and comfortable to use. This state-of-the-art clear positioner system is a great alternative to fixed metal braces. The aligners are designed to fit over your teeth while gently guiding them into their ideal position.
When it comes to comfort and convenience, Smile-Tru goes far beyond conventional braces. Get the smile of your dreams with Smile-Tru, without anyone knowing that you are being treated.
Why Choose Smile-Tru?
Fast – Smile-Tru helps you achieve straighter teeth in about six months.
Invisible – since the aligners are almost totally invisible, they can't be seen easily.
Affordable – the short treatment period significantly cuts your orthodontic treatment cost.
The Top Benefits of Smile-Tru
Comfortable
Virtually invisible
Removable for cleaning, eating and drinking
Less impact on your daily routine
Doesn't affect your oral hygiene
Ideal Candidates for Smile-Tru
The best way to find out if you are an ideal candidate for Smile-Tru clear positioner system is to consult your dentist. By performing an examination of your teeth, your dentist can determine if you are suitable for Smile-Tru.
How Smile-Tru Works?
The aligners fit comfortably over your teeth using gentle force to slowly move your teeth.
Wear them for around 14 days until they feel passive. Move onto the next stage aligner.
This is a step-by- step approach and applies gentle force.
Straighten your teeth and make your smile look healthier and more attractive with the revolutionary Smile-Tru Clear Positioner System. It's easy and comfortable to use and doesn't interfere with your everyday routine such as cleaning your teeth and eating the foods you love.
Smile-Tru is a great investment for your smile and overall oral health.